---
The U.S.-Pakistan Center for Advanced Studies in Water is training a new generation of engineers and water professionals in order to solve the water security challenges of the twenty-first century.
---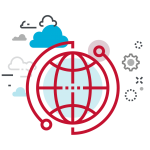 OUR MISSION
The U.S.-Pakistan Center for Advanced Studies in Water fosters Pakistan's water security through collaborative and applied research, innovations in curriculum and technology, technical training, leadership, policy development, gender equity, and advocacy.
Motivation
In Pakistan, reliable drinking water is accessible to less than 15% of the population, inadequate sanitation contributes to preventable waterborne diseases leading to a child's death every two minutes, and inefficient management of water leads to losses greater than 50%.
To forge solutions to these and other challenges inhibiting education, health, and stability in Pakistan, USAID formed a strategic partnership between the University of Utah and Mehran University of Engineering and Technology (MUET) in 2015. The result is USPCAS-W, a partnership that fosters a nexus of higher education, government, business and communities working together to effectively guide sustainable development policy through water research.
The USPCAS-W leverages the strengths of each partner. The U Water Center brings expertise in trans-disciplinary water research, global engagement, technology and venture commercialization, and faculty development. MUET brings the water sector network, curriculum, and community interface to the collaboration.
Safe and reliable drinking water and sanitation systems
Improved performance of water and wastewater utilities
Effective wastewater treatment, water quality protection, and water-related ecosystem restoration
Efficient water use leading to greater productivity and prosperity
Resilient and sustainable water management reversing groundwater depletion, mitigating water scarcity, and reducing flood impacts
Enrolled more than 90 graduate students and hosted more than 40 semester exchanges
Initiated four graduate degree programs
Awarded 13 research seed grants to date
Conducted on average three training missions to Pakistan per year
Launched three multi-institution research projects
How do we empower individuals and institutions to solve real-world water problems?
We tap the potential of higher education in Pakistan to create innovations in research and education. 
Renowned water experts from the University of Utah and supporting institutions, including Colorado State University, University of Nevada, Las Vegas, and City College of New York, partner with faculty in Pakistan to:
form trans-disciplinary and cross-cultural research teams
facilitate student and faculty exchanges, and
empower Communities-of-Practice
USPCAS-W employs a train-the-trainer philosophy to extend the capacity of the partnering institutions so they can support, through an escalating process, capacity building at other institutions.
This program is made possible by the support of the United States Government and the American people through the United States Agency for International Development (USAID). The contents are the sole responsibility of the University of Utah and do not necessarily reflect the views of USAID or the United States Government.