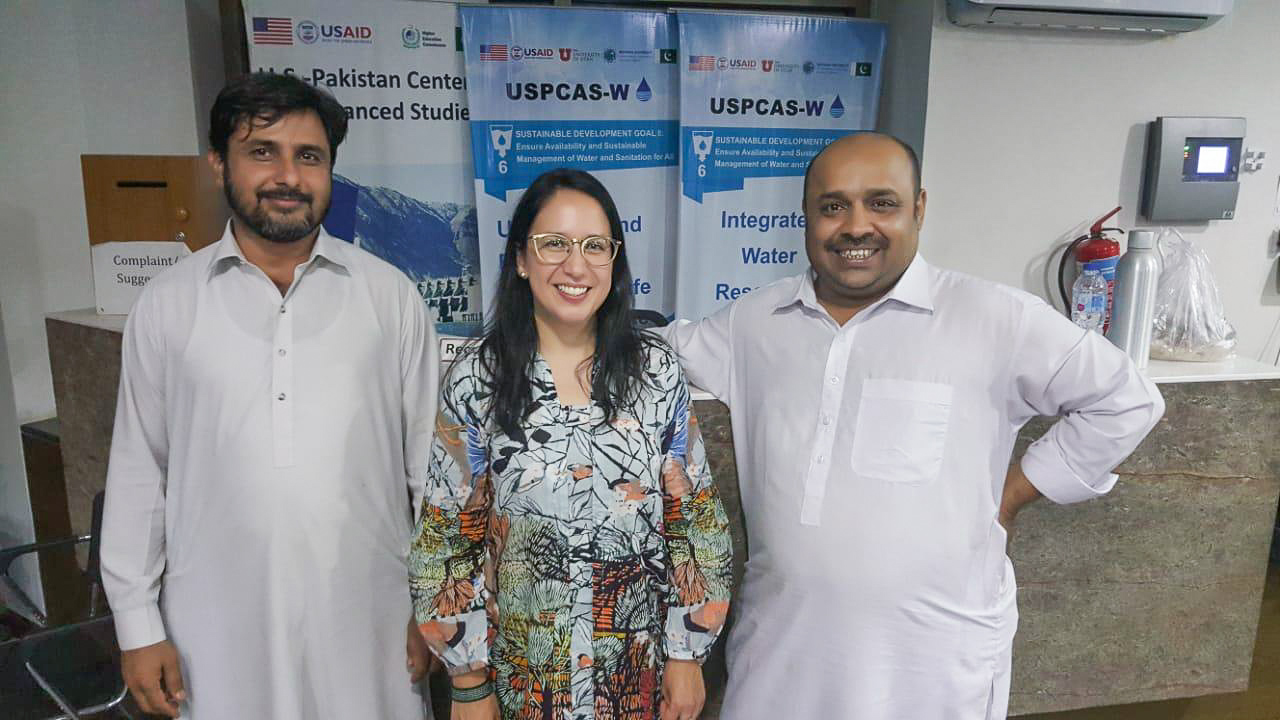 "Social power matters, and attention needs to be given to lessening the inequities. The good news is that our research found that social solidarity and trust also matter, so the focus of social mobilization efforts should be on not only improving the formal system's functionality, but also on sharing information better among different groups and strengthening social solidarity."


By Catherine Arnold
What if you were a farmer in Pakistan, dependent on irrigation water from the country's complex canal system—covering 36,000 miles and an additional 994,000 miles of farm and field ditches—but still unable to get your due share of water to grow sufficient crops for a basic livelihood?
Technically, you shouldn't be in that situation. A farmer may be located at the tail end of a canal, but Pakistan's irrigation management system is designed to provide due shares of water (i.e., fair distribution) regardless of a farmer's location. Still, certain farmers—especially those at the tail end—come up short. Maybe some farmers at the heads of canals and distributaries tamper with the size of outlets to redirect more water to their own fields; or a large, powerful land-owner receives special permission to install a "direct outlet" that takes water directly from the main canal and serves only one farmer rather than a collective of farmers known as a Farmers' Organization. "In either case, they may be taking water that would have gone to someone else," says Dr. Mercedes Ward, an anthropologist working with the University of Utah Water Center. Such tampering and privileged outlets hinder the success of the "participatory irrigation management" approach introduced in 1997 to decentralize irrigation water governance and put farmers in the driving seat of water management through the formation of Farmer's Organization at the level of secondary canals (distributaries).
Ward wanted to learn more. In one of Pakistan's four provinces—Sindh—with a small grant from the Sindh Water Sector Improvement Project (WSIP; Planning & Development Department, Government of Sindh) and support from the USAID-funded U.S.-Pakistan Center for Advanced Studies in Water, she and co-principal investigator Mr. Muhammad Ali studied how social power dynamics impact irrigation management performance. "We wanted to test the notion that social power inequities constrain the efficacy of the formal system for irrigation management. A better understanding of these dynamics could lead to improved policies with a more holistic understanding of local contexts," said Ward.
Ward and Ali, an assistant professor at Mehran University of Engineering and Technology, developed surveys and trained Mehran graduate students in protocols for social science—including ethics in the field, and how to conduct an interview. The field team, led by Mr. Qaimuddin Mahar, surveyed over 200 representatives of Water Course Associations across 22 farmers' organizations. To round out their analysis, the team also conducted focus groups with those who might be marginalized and key informant interviews with local water experts and members of local irrigation governance institutions (i.e., the Sindh Irrigation Department and the Sindh Irrigation and Drainage Authority).
The resulting report, "The Impact of Informal Institutions on Participatory Irrigation Management Outcomes," found that social power structures do indeed have a negative effect on irrigation management performance. In particular, the team found that greater inequities in social power across kin groups (biraderis) within the same Farmers' Organization reduced its irrigation management performance.
The team developed a set of recommendations that included:
Organize policy dialogues with local stakeholders, including farmers from less powerful family/kin groups, to talk seriously about what social power means locally and what to do about it to improve irrigation equity
Develop a social mobilization training program to strengthen social solidarity and trust among different formal and informal groups
Fully implement existing policies (i.e., the Sindh Water Management Ordinance 2002), including the establishment of a regulatory authority to help enforce fair water distribution
Improve information management systems to collect up-to-date data and routinely share it with local stakeholders to improve transparency and accountability.
There were a couple of main lessons. "Social power matters, and attention needs to be given to lessening the inequities," says Ward. "The good news is that our research found that social solidarity and trust also matter, so the focus of social mobilization efforts should be on not only improving the formal system's functionality, but also on sharing information better among different groups and strengthening social solidarity." The work also has some "exciting" potential, Ward notes: "If effective, such a social mobilization training program could be used to support improved water management not only in Sindh, but nationally and even perhaps internationally."
The fact that the project was funded locally and had local collaborators increases the likelihood that the results will be put to use. Ward is hopeful that the study will inform policy: "I'm interested in using research in a way that improves social and environmental wellbeing. But from here, it goes to the harder part: taking academic work and connecting it to policy changes."